From 1909 to now, including
two women, two organisations, two journals during WWI

FRONT PAGE - Index

11-13 PREQUEL
11. Two Women, Two Organisations
13. Our Herstory Before WWI

17-18 INTRODUCTION PART 1
WOMEN SUPPORTING WWI
18. The British Empire on Trial

19-20 THE AUSTRALIAN
WOMEN'S NATIONAL LEAGUE
19. AWNL - Federal Platform
20. Do Not Seek Place or Power

21-22 AUSTRALIAN WOMEN'S
NATIONALLEAGE 1914
21. The Empire on Its Trial

23-28 AUSTRALIAN WOMEN'S NATIONAL LEAGUE 1915
23. World Domination
23. The British Empire on Trial
24. Patriotic Meetings
26. Fight or Work Campaign
26. Patriotic Resolutions
27. What the AWNL has Done
27. Enemy Within the Camp
28. Christmas of Faith and Hope

29-39 AUSTRALIAN WOMEN'S NATIONAL LEAGUE 1916
29. Appalled Tades Hall Council
30. Appeal to the Women
30. The Striker and the Shirker
31. I Didn't Raise My Musket
32. The Prime Minister in England
32. Australia's Honour at Stake
33. Strikes are Rife in Australia
33. Empire Day Demonstrationl
34. Petition for Conscription
35. 22,000 Signatures Five Days
36. Australia or Germany
36. League Appeal to Women
38. Defend the Empire's Trade
39. Woman's Influence

40-43 AUSTRALIAN WOMEN'S NATIONAL LEAGUE 1917
40. War Savings Patritic Scheme
41. The War Drum of Unionism
41. Australia Finances Two Wars
42. Suggestive Thoughts on Thrift
43. 1917 Petition for Conscription

44-50 AUSTRALIAN WOMEN'S NATIONAL LEAGUE 1918
44. A Magnificent Demonstration
45. Women's Vote Responsible?
45. Falling Birth Rate – Nat. Peril
46. Disloyal Utterances
46. Parents' Consent
46. A War-Time Election
47. The Red Flag
48. Trade Vigilance Committee
48. The Power Behind the Throne
49. The Armistice – and After

51-54 AUSTRALIAN WOMEN'S NATIONAL LEAGUE 1919
51. Thankfulness to God
51. Madness that is Bolshevism
52. Those Who Will Never Return
52. Peace Terms - Versailles
55-56 INTRODUCTION PART 2 - WOMEN OPPOSING WWI
56. War is Women's Business

57 PART 2: THE WOMEN'S
POLITICAL ASSOCIATION
57. Vida Goldstein

58-68 WOMEN'S POLITICAL
ASSOCIATION 1914
58. The Woman Voter
59. A Ministry of Peace
60. Settling Intrenational Disputes
61. Women Will Stand Together
61. Women of the World Unite!
62. Shall the Mothers Rejoice?
63. Women, Bethink Yourselves
64. Fighting for Civil Liberty
65. Women of the World are One
66. An Outrage on Civilisation
66. White Australia Policy Done
66. A Scheme Help Unemployed
67. War and the People's Bread
68. Christmas Message All

69-89 WOMEN'S POLITICAL
ASSOCIATION 1915
69. No Secret Imperial Policy
69. W.P.A. Women's Bureau
70. Women Seeking Work
70. Proposals for Work
71. The Unemployment Bureau
71. Women's Farm
72. A Farm Has Been Taken
72. Labour Bureau New Office
73. Women's Conference Hague
74. A Free Press
75. Women's Labour Bureau
75. Attempt to Annihilate Bureau
76. Defence of Their Own Rights
76. Cost of Living Deputation
77. Parliamentary Rebuff
78. Members Frightened of Us?
79. Deputation Minister Defence
79. Form a Women's Peace Army
82. Congress of Women - Hague
83. Mothers Fight
84. Necessitous Women
85. WPA Requests Prime Minister
86. Asiatic Deprived of Work
86. Tabloid Philosophy - Patriotism
87. Venereal Disease
87. I Didn't Raise My Son Soldier
88. Peace Mandate
89. Our Bureau at Christmas Time
89. Women Continue to Sing It

90-115 WOMEN'S POLITICAL
ASSOCIATION 1916
90. Soldiers Attack Mr Katz
90. Who Loses the War?
91. War and Rights of Citizens
92. Mr Hughes Incites to Murder
93. Condemns Authorities
93. WPA and the Prime Minister
97. The Little Nations
97. War Profits, Food Prices
97. Not Breeding Machines
98. The Children's Peace Army
98. Almost Without Bread
98. Peace Proposals
99. Conscription by Proclamation
100. Justice Blind in One Eye
100. Women's Farm
100. Unemployed Women
101. Letter from a Prisoner of War
101. Yarra Bank Meeting
104. Who Profits War? Mining
104. Distress Amongst Women
105. Social Evil Convention
106. Women's National League
106. Church and Social Questions
106. Women Belligerent Countries
107. State Govt. Compels Women
107. So Mr Hughes Hopes
108. Opposing Conscription
108. Peace Army Leaflets
110. Child Labour
111. Manifesto Peace Army
112. New Premises
113. Colours
114. 6,000 Processionists
114. Persia - New Agreement
114. Secret Mission to London
115. Proclamation Annulled!
115. Women for Permanent Peace

116-122 WOMEN'S POLITICAL
ASSOCIATION 1917
116. Women's Terms of Peace
117. WPA and Russian Revolution
118. War is Out of Date
119. Workers Never Wavered
120. Raid on Parliament
120. The Strike
121. WPA Established a Commune
122. We Lead - Conscription No!
122. Hugely Successful Meetings

123-126 WOMEN'S POLITICAL
ASSOCIATION 1918
123. Press, Pulpit Purse
124. It is with Great Regret
124. The 'Shirker' Class
124. Meeting Guild Hall
124. Protest against Profiteering
125. President Wilson's Speech
125. The Dawn of Peace

127-140 WOMEN'S POLITICAL
ASSOCIATION 1919
127. WPA Peace Buttons
127. Women's Peace Congress
127. Delegation to Europe
129. Starving Babies of Germany
130. Peace Congress Zurich
131. Rule of Force and Spoilation
131. Old Order is Not Changed
132. Peace - Unspeakable
134. Hatred Treaty of Versailles
134. Colour Caste's a Lie
134. Pagan Rites Ended
135. It is War, It is War
135. Congress Deep Regret
136. Zurich and Versailles
137. Old-Time Despotism
138. Order Out of Chaos
139. The World is Sick unto Death
139. Misunderstanding and Hate
140. Not Enough Return Passage
140. This Publication Ceases

141-143 INTRODUCTION to
PART 3


144-148 SEQUEL
144 Women in Black
145 Beyond the Garden Gate

149-177 APPENDICES - 1 to 9

178-180 INDEX
Pages 19 to 20 Women Supporting WW1 PREVIOUS PAGE NEXT PAGE

PART 1: AUSTRALIAN WOMEN'S NATIONAL LEAGUE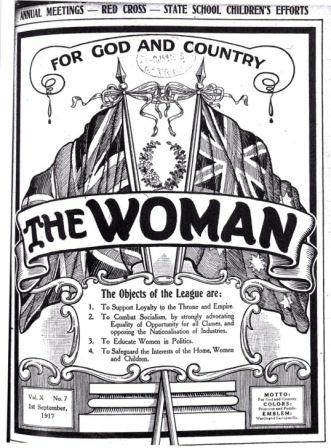 Cover AWNL journal 'The Woman' 1st September 1917

'The Objects of the League are:
1.To Support Loyalty to the Throne and Empire.
2. To Combat Socialism, by strongly educating Equality of Opportunity for all Classes,
and opposing the Nationalisation of Industries.
3. To Educate Women in Politics.
4. To Safeguard the Interests of the Home, Women and Children.'
AWNL - Australian Women's National League Federal Platform Laid down in 1913 -

1. To uphold the Federal Union as embodied in the Constitution.

2. To promote a vigorous policy of immigration in co-operation with the States and Imperial Government as being the first necessity for the safety, development, and industrial progress of Australia.

3. To maintain an adequate defence policy by land and sea, which will include a due recognition of our Imperial responsibilities.

4. To restore responsible Government and majority rule as against Caucus domination, with due recognition of the rights of the minority.

5. Electoral reform, which will secure a true representation of majorities, and maintain the system of voting by post.

6. To give effect to the present fiscal policy, with due regard to all sections of the community, and to support the establishment of a Board of Trade for its adjustment on practical lines.

7. To maintain a White Australia.

8. To foster amicable relations between the States, and to link them up by a transcontinental railway, more especially for the purposes of defence.

9. To oppose export duties on primary products.
The Woman 1 December 1918

AWNL - Do Not Seek Place or Power

The Woman, 1 July 1914:

The League is strictly national; it takes in all classes of women, rich and poor. It does not matter what their employment or what their denomination is, if they love Australia, and want to work for her prosperity and for freedom of thought and action, the League will welcome them as members. The platform is a broad one and the work disinterested.

The members of the League do not seek place or power; they do not wish to send women to Parliament. They wish to educate themselves and others to use consciously and intelligently the vote the country has given them, and they wish to keep their homes pure and united, their faith in God undisturbed and unshaken, and to see their country free and prosperous.